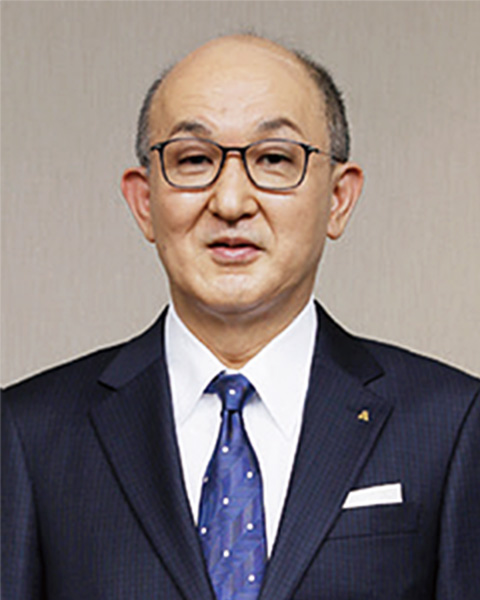 President Ichiro Hikage
We would like to express our deepest gratitude to our shareholders and investors for their continued support, and extend our warm greetings with this Group report for the 102nd term.
Although the COVID-19 pandemic continues, the global economy in this consolidated fiscal year has been experiencing an upward trend as a result of initiatives such as more of the population being vaccinated, relaxed activity restrictions, and adjusted economic policies in various countries. Meanwhile, there is also the issue of increasingly unstable supply and demand that accompanies full-scale economic activities, along with an increase in energy and raw-material prices due to the situation in Ukraine.
As the COVID-19 pandemic marches on, Japan's economy has seen some recovery due to progress with vaccination and relaxed activity restrictions. However, factors such as the emergence of new variants of the virus, the semiconductor shortage, and rising energy and raw-material prices, have produced ongoing uncertainty.
Within this business environment, in our efforts to enhance corporate value, the Achilles Group has been focusing on creating products that fulfill customer needs and can harness brand power. Specifically, we have been actively promoting business development in globalization and priority areas such as products for infectious disease control, products for energy conservation, environmentally-friendly products, products for disaster prevention, lifestyle products, and products for infrastructure development. At the same time, we have been endeavoring to reduce costs, conserve energy, and cut waste.
As a result, the consolidated results for this period are net sales of 75,953 million yen (the previous period was 73,617 million yen), an operating income of 855 million yen (the previous period was 1,569 million yen), an ordinary income of 1,595 million yen (the previous period was 2,080 million yen), and the net income attributable to owners of the parent was 1,525 million yen (3,215 million yen for the previous period).
The dramatic rise of crude oil prices due to the worsening situation in Ukraine, the global economic recovery, along with the lack of semiconductors, are expected to affect any on economic rebound.
Furthermore, although conventional wisdom is that the COVID-19 pandemic will continue, the economy is expected to take a turn for the better as more people are vaccinated, restrictions are eased, and economic measures are taken. However, instability is likely to persist as ongoing initiatives are launched to try to balance infection prevention and stimulate economic activities until the pandemic ends.
From a medium- to long-term perspective, we can expect further diversity of production activities and consumption behavior as Japan's birthrate declines and population ages, creating an unprecedented age structure, and recovery/expansion for production and consumption is forecast for emerging countries. Meanwhile, the SDGs (Sustainable Development Goals) are more important than ever, and there is pressure on corporations to make a change toward a decarbonized society. Furthermore, although the progress of AI and ICT technology is leading to the creation and expansion of new businesses, we can assume that existing businesses will need to instigate structural and workstyle reforms.
Moreover, there is a need to construct a flexible and resilient framework that enables us to respond to a society full of uncertainties, as major natural disasters and a pandemic took many lives and hampered economic activity.
To tackle the challenges of sharp changes in production and consumption globally and in Japan, and to achieve sustainable growth, our Group must make the most of our technology and management resources for active and effective development. Namely, we must "continue creating new value for our company, society, and the future" toward "creating comfortable living spaces that are friendly to both people and the environment."
Our group will construct a group of companies that will create greater value, striving to become a robust global enterprise with passionate and logical Group members that strive for sustainable growth and enhanced corporate value. I would like to thank our shareholders and investors in advance for their further understanding and support.
June 2022